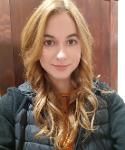 Agency: Picobello Talent Inc.
Email: Please log in to view
Height: 5' 7"
Weight: 150
Hair: Ginger
Eyes: Brown
Miriam is a 26 year old performer from Vancouver. She is creative, energetic and charismatic.
She has an innate talent to portray the human experience both physically and emotionally.
She has a natural passion for performing!
Film & Television
Power Rangers
BG Running Townsfolk
May 2016
Status Update
BG, Student at a Costume Party
June 2016
Woman of The House
BG, Office Worker
July 2016
Riverdale
BG, Student (Continuity)
February 2017
Supergirl
BG, DEO Agent
March 2017
Altered Carbon
BG, Futuristic Labaroty Worker
March 2017
Ghost Wars
BG, Ghost
June 2017
Legends of Tomorrow
BG, Circus Goer
July 2017
X-Files
BG, College Student
August 2017
Sabrina (Netflix)
BG, Student (Continuity)
2018/2019
Snowpiercer
BG, Police Officer
2019
Training
Background Acting
Represented by Agent
2015 - PRESENT
Skills and Interests
Skills:

- Ability to be present
- Imaginative
- Naturally Athletic

Interests:

- Acting + Art
- Yoga
- Exploring Nature
- Rockclimbing
- Rollerblading
- Skiing
- Swimming