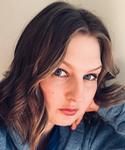 Emma is a Vancouver BC based Background Performer.
Over the years she has studied as both a student and a professional for film, television and theater, volunteered for several projects including modeling for runway shows and fundraisers, as well as acting for student and independent film projects.
Emma greatly values Vancouver's thriving entertainment industry, enjoying every minute of magic be it rain or shine!
Training
Acting for Film and Television
Marc Brandon
Private coaching for film
Peter Bryant
Basic Stage Combat Workshop
Fight Directors of Canada, Simon Fong
Knife Fighting & Firearms for Film
Braun McAsh
Intermediate Modern Fencing- Épée
Bac H. Tau (Maître Bac)
Beginner Theatrical Fencing
Bac H. Tau (Maître Bac)
Skills and Interests
- Stage Fighting, Beginner: rapier, long sword, quarter staff, knife, hand to hand & firearms safety.
- Modeling & Photo doubling.
- PAL, restricted and non.
- Class 5 BC DL.