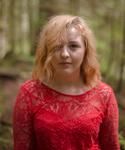 Alexandria Maillot is a young accomplished singer/songwriter and actor. Alexandria's successes in music include: performing overseas in festivals in Cairo, Egypt and Bucharest, Romania; being invited by David Foster to perform alongside Jann Arden at the Royal Ontario Museum grand opening of the Michael Lee Chin crystal building in Toronto, ON of 2007; selling original song to Universal Europe for Swiss artist, Stefanie Heinzmann, for her debut album (CD went Gold in the EU and hit the top 10; song has almost 1 million hits on Youtube); being featured on various music platforms such as 95.3 Virging Radio and 100.5 The Peak, American Airlines In-Flight Entertainment, MTV and Ourstage as the "Needle in the Haystack" and Oprah Winfrey's website under the "World's Most Smartest and Talented Kids", and winning numerous competitions like the We Are Listening Singer/Songwriter Awards, which garnered her a personal supervisor with pending placements in various television networks (MTV, Oxygen, OWN). Alexandria made her acting debut in 2011 as Lucie in Red Riding Hood, starring alongside Amanda Seyfried, Virginia Madsen and Gary Oldman.
Training
Ongoing Scene Study
Johannah Newmarch
Vancouver Acting School (2018-Present)
Professional Voice Over: Level 2
Megan Peta Hill
Sonder Acting Studios (Aug 22-Sep 26, 2023)
Casting Director Workshop
Errin Lally & Annalese Tilling
Actor Van Studios (Aug 3-4, 2023)
Voice Over Intensive 101
Megan Peta Hill
Sonder Acting Studios (July 15-26, 2023)
Casting Director Workshop
Candice Elzinga
The Drama Class (May 13, 2023)
Audition Breakthrough
Nelson Wong
Haven Acting Studio (Oct 29-Nov 19, 2020)
Scene Study
Tom Todoroff
2007
Scene Study
Adrian Hough
Red Room Studios (2005-2008)
Audition Workshop
Bart Anderson
Red Room Studios (2005)
Work
Arctic Air
Concert-Goer
TV
David Suzuki Foundation
Actor
TV
Hewlett-Packard
Student
Commercial
It's Christmas, Carol
Shopper
MOW
Red Riding Hood
Lucie
Feature Film
Russel Mania
Actor
Feature Film
Super Buddies
Actor
Feature Film
Scourge
Actor
Feature Film
Untold Stories of the ER
Roommate
TV
Witches of East End
Party-Goer
TV
Brain on Fire
Concert-Goer
Feature Film
Besties
Student
Feature Film
The Christmas Note
Shopper/Passerby
MOW
Nascar
Party-Goer
Commercial
Skills and Interests
Alexandria is an accomplished and published singer and songwriter and plays piano, guitar and
ukulele. As well, Alexandria's former job descriptions/endeavours have merited her the following skills: ice cream making, barista, serving, catering, skating, playing music/singing, practicing yoga, and beginner sword fighting.