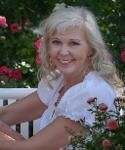 Agency: ShowBiz Management
Height: 5' 9"
Weight: 61 kg/134 lbs
Hair: Blond
Eyes: Hazel
Nadia has been working in Vancouver's film Industry since 2017.
Acted in a variety of roles which include Juror, Faculty Teather, Lawyer, Medical Conference Attendee, Nurse, Formal Guest, Figure Skater, Family member and etc.

Comfortable acting with camera gear and equipment, graduated New York Institute of Photography (2017).
Proficient with post-production services in Lightroom, Photoshop and IMovie.
She has a passion for Videography, Wildlife & Nature Photography.

Bilingual - English & Russian, learned German language in school. Polish and Russian ancestral roots.
Worked previosly as a legal adviser and corporate lawyer in Russia. University degree.
Reliable, punctual and organized with exceptional attention to detail. She is very outgoing, personable and always a neat, professional appearance.

Physically fit, athletic – swimming, paddleboarding, figure skating, tennis player, shooting range experience, horseback riding.
Class 4 Unrestricted Driver Licence, a clean drivers abstract.

No tattoos or body piercing. A vast wardrobe – casual, business, cocktail/evening and upscale wear. Props - Ice Skates, Paddleboard, Tennis Equipment.

Proof of vaccination.

She has a flexible schedule, available most days of week and eager to prove her skills in Background, Film and Commercials.

Film & Television
Hallmark Christmas Movies, 2017-2022
Supergirl, August 2017
Life sentence, 2018
Nicole, December 2018
Unspeakable, 2018
Sabrina, 2018
Colony, 2018
Loudermilk, 2018
Charmed, 2018
Trial and Error, 2018
Julie and the Phantoms, 2019
Firefly Lane, 2021
Devil in Ohio, 2021
Madeline, 2021
Cut, Color Murder, 2021
Yellowstone Killer, 2021
Batwoman, 2021
Good Doctor, 2021
Legends of Tomorrow, 2021
Three sisters, 2021
Cruel Summer, 2022
Fall of the House of Usher, 2022
The Power, 2022
Wilderness, 2022
Snowpiercer, 2022
Superman and Lois, 2022
Peak Season, 2022
Skills and Interests
Photography
Videography
Graphic design
Figure Skating
Swimming
Paddleboarding
Tennis
Chess