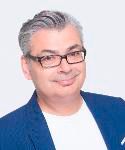 For the past 5 seasons, Bruno has been a judge/co-host on CBC's The Great Canadian baking Show.

Film & Television
Superman & Lois
Middle Aged Waiter
CW
Beat Bobby Flay
Self
The Foodnetwork
Ivy Monsters
Landlord
China TV
Training
New Image College
Script analysis, on camera training
2 months
Tony Alcantar, coach
American accent for ESL
24 hours
Tony Alcantar, coach
One on one training
20 hours
Tony Alcantar, coach
Behind the scene
24 hours
Francesca Bianchi, coach
Script analysis
4 hours
Skills and Interests
Fluent in English & French
Hold a US, Canadian and French passports.
Professional Michelin Star trained Chef.
Cookbook author.
Spokesman for Anxiety Canada.
Super Dad.